UNIQUE SYSTEM
CHAdeMO is the only fast charging protocol and standard with its own established certification in the world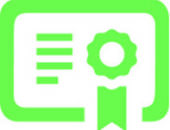 One of its kind dedicated to DC charging and discharging for EVs, the impartial and transparent process enables any company to build, certify, and sell CHAdeMO devices. CHAdeMO certified means the charger conforms to the highest saftey standards mandated by CHAdeMO and is fully compatible with all CHAdeMO EVs.
The CHAdeMO logo is a proof that the charger has passed CHAdeMO certification test. Certified chargers are listed on our website.
Apply for CHAdeMO Regular Membership and receive CHAdeMO specification document
Develop a product based on CHAdeMO specification
After product development, send an application form for a certification test
Certification test is conducted at any of the accredited third-party certification organisations listed below. Applicants can select one of the registered certifying bodies. Any details of certification test such as schedule, venue, testing arrangement and cost should be determined between the applicant and the certifying body.
If the product passes the test, the applicant will receive CHAdeMO certificate
CHAdeMO has mandated independent laboratories to perform its certification tests ensuring fair and neutral treatment of every product and company. The accredited parties deliver high quality services to the CHAdeMO community across the globe.
 7
third party certification bodies
260
chargers
certified to date
While certification test is performed by independent organisations, they follow strict technical guidelines defined by CHAdeMO Association ensuring conformity to the latest version of the protocol.
Certification consists of basic circuit requirement, control sequence and communication protocol test.
Full list of certified chargers can be found here.