From 24 to 28 April CHAdeMO will host a stand at Hannover Messe 2017, Europe's biggest industry trade fair, with its members Circontrol, EVTEC, IES Synergy, Lafon Technologies, Magnum Cap, PR Electronics, Signet EV, Tritium and Nissan. This will be our fifth year in a row at the Messe to showcase our members' latest products in the center of the Energy Section (Integrated Energy Systems and Mobility) at Hall 27.
On the 56sqm CHAdeMO joint booth (Hall 27 Stand G61), together with a 30-kWh Nissan Leaf, a variety of CHAdeMO chargers from a 24kW wall box to 100/150 kW chargers will welcome visitors. Magnum Cap will bring their MC QCA model, the official charging system to be used at the new Electric GT Championship. There will also be a 100kW charger by Signet EV and a 150kW by EVTEC to accompany the trend of high power charging. Around CHAdeMO V2X, a new member, PR Electronics, will bring their new V2G charger module.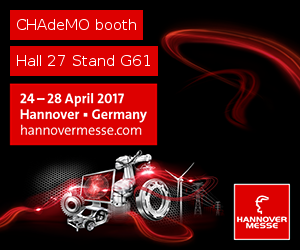 The stand will be adorned with our signature map of European CHAdeMO installations (already over 4000)  and will yet again offer a unique one-stop-shop for all visitors interested in fast charging infrastructure.
If you are interested in visiting us, you can get a complimentary visitor's ticket by registering from here.
We look forward to seeing you in Hannover.